Conversion by activity according to medium source and device – 2016
We are analyzing progressively different data about our Study on Conevrsion in Spanish E-commerce 2016. In previous posts we have verified that the conversions in different areas of activity are different. We will analyze in more detail what is the conversion ratio per activity of the e-commerce, according to the…
We are analyzing progressively different data about our Study on Conevrsion in Spanish E-commerce 2016. In previous posts we have verified that the conversions in different areas of activity are different. We will analyze in more detail what is the conversion ratio per activity of the e-commerce, according to the medium source and device in each, in two parts:
Conversion rate by medium source in each type of activity.
Ratio of conversion by device in the different areas of activity.
What are the activities that convert the most by medium source?
Each area of activity has a different conversion by each medium source. If we remember the post in which we talked about the conversion ratio by medium source we see that the areas of activity that convert the most, are also those that have better conversion by medium source.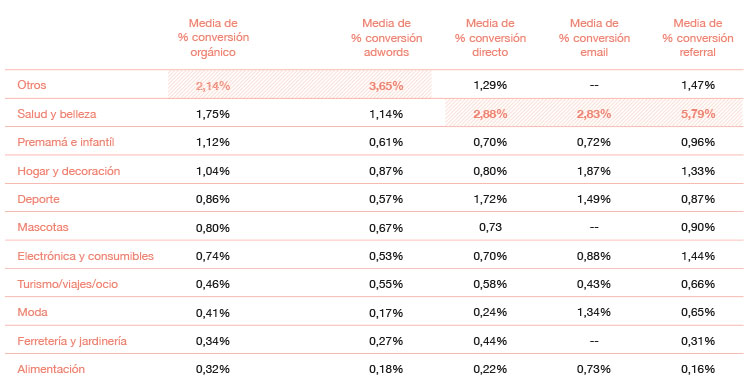 We see that the other category, which includes more variety of etailers, has higher conversion rates in the medium source that normally convert the most, organic and adwords. And the biggest conversion in direct traffic medium and by email is in health and beauty. It is worth highlighting the very high conversion rate in health and beauty by referral medium (traffic coming from an external link), a 5.79% average.
Conversion by devices of the different areas of activity
We see here that health and beauty again have the highest conversion rates, specifically desktop and mobile. The average conversion for desktop in health and beauty is the highest, with a 3.46%. However for tablet, the other category is the one with a higher CR. Here we have all the conversion data per area according to the device used.
A very interesting fact that we observe is that the more conversion in desktop, the more conversion in mobile. Despite this, the mobile is still a long way from desktop conversion rates.
Ratio of conversion by activity according to device and medium source
What insights do we get from this cross-analysis of data? Well, in general, an e-commerce that belongs to a branch of activity with a good conversion rate, will generally have a better conversion rate in all medium sources. And at the same time, the etailers with higher conversions in desktop, also have high conversions in the rest of devices.
It is very clear that the conversion by mobile is still very low compared to desktop conversion. We will have the opportunity to discuss how these data have advanced in the last year in the presentation event of the new study of Flat 101 to which you can sign in this link: Event of presentation of the Study on Conversion in Spanish Ecommerce of Flat 101. Here we will see new data of the 2017 version and a comparison will be made with the data of this 2016 study.
---
---